Does hybrid work matter?
The stats say yes, and we're here to guide you through optimizing your Webex services for hybrid working and beyond.
Keep employees happy
Some employees want to be in an office, but a growing number prefer working remotely. 83% in fact, state that they'd be happier working remotely.*
*State of Remote Work 2019, Owl Labs
No more churn
Workers are asking to work remotely, and the companies offering remote work are being rewarded—they have 25 percent lower employee churn rates than those without.*
*15 Stats You Need to Know in 2021, Krisp.ai
Improve your focus
Did you know that working remote improves focus for key tasks by 76 percent?*
*The Me in Team 2021 Report, Atlassian
Video meeting basics
Help your users have more engaging meetings when they turn video or devices on and use custom backgrounds, layouts and gestures. We've got the resources you need to help them look, sound, and interact at their best.
Save time with messaging
Encourage your users to use spaces, messages, and @mentions to share information and keep work moving. You can share these resources with your users so they can make Webex App work best for them.
TIP: Get your users to download the Webex App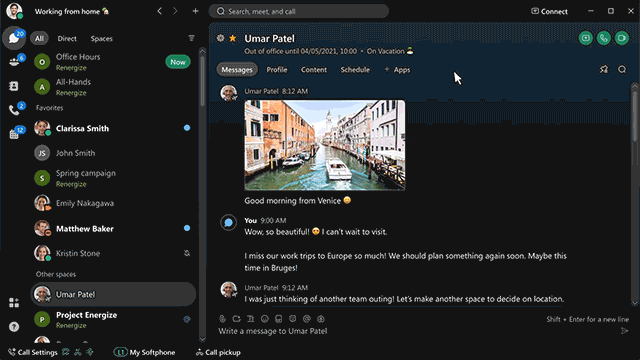 Make it seamless for users
While they get on with their work, you can make it easier and more seamless for them.
Set up hybrid calendar
Connect calendar services like Outlook or Google calendar to Webex so users can easily schedule and manage meetings.
Meeting styles guide
We get it. We have a lot of options. So we simplified it for you to use what works best for your meeting styles.
Next level Webex features
Every team, business, and organization has a different need. So we put together resources for you to share with your users to suit your meetings, events, and engagement needs.
Share our tips with your users so they get the most of out of hybrid work.